Stream X Signature Streaming Music Player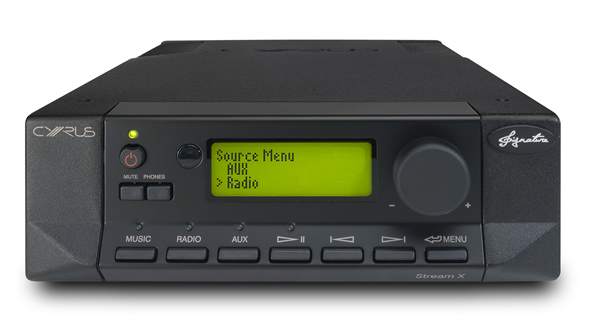 Stream X Signature is our highest performance streamer source component; it uses Cyrus' state-of-the-art streaming engine and has been developed to provide the best sound resolution possible from a network audio library. It will fully exploit the highest quality 24-bit/192 kHz files.
Make the most of the latest high resolution music files, or upgrade the quality of your CD resolution music1. Our flagship music streamer allows you to browse and select from your entire music collection using our Cadence app for iOS and Android.
Stream from any UPnP or DLNA device, or use one of the streamer's host of additional inputs to play music from your PC or mp3 player. With simple set up, seamless navigation and sensational sound quality, listening to music just got a whole lot more enjoyable!
For the ultimate hi-fi system, use the Stream X Signature with a DAC XP Signature and a pair of Mono X 300 Signature's . Include a CD Xt Signature to add CD compatibility to your system. For the Cyrus Signature range,
The law on the ripping of CDs varies from country to country. It is your responsibility to ensure that you are complying with relevant local applicable laws.
---
Stream Xa Streaming Music Player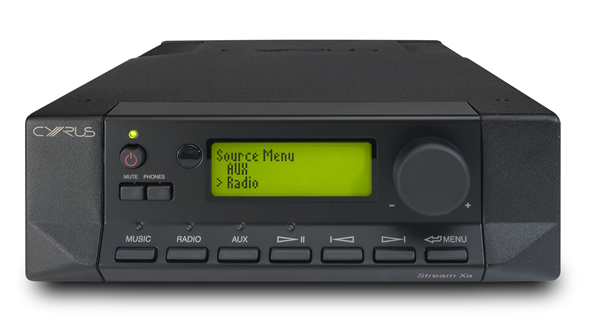 Stream Xa incorporates Cyrus advanced streaming engine with a high quality 24-bit DAC so it can be used as a source in traditional hi-fi systems without the need to invest in a separate high performance DAC.
Our expertly engineered circuitry and DAC (digital to analogue converter) technology means you can stream 24-bit music in high resolution. This high resolution combined with our expert tuning uncovers hidden depths and details in your music, bringing the beat to life. With ourCadence app you can access all of your networked music as well as over 100,000 internet radio stations with ease.
The onboard DAC can also be used as a stand-alone feature, by wiring your AV sound through the streamer for an improved sound.
Adding a PSX-R2 external power supply to separate the processes in the unit will improve the sound quality even further. Build you music experience through ourupgrade paths to reach the ultimate Cyrus Signature series.
---
CD Xt Signature CD Player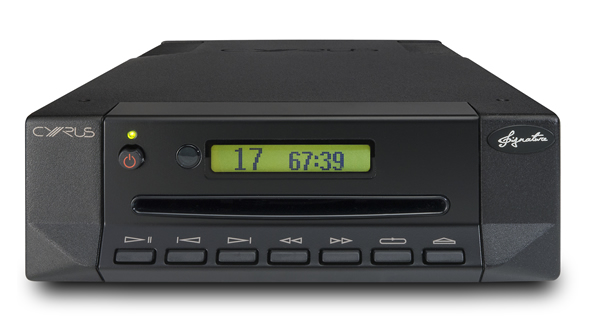 The CD Xt Signature is a dedicated CD transport which produces audiophile sound quality. It is manufactured with a range of performance enhancing techniques and components, including an evolved version of ourServo Evolution technology.
Two separate power supplies provide huge reserves of power, which eliminates the need for a PSX-R₂. The sound produced by the CD Xt Signature is truly stunning, providing a room filling wide and high soundstage.
Partner with a DAC XP Signature and two Mono X 300 Signatures for an amazing experience.
---
CD i CD Player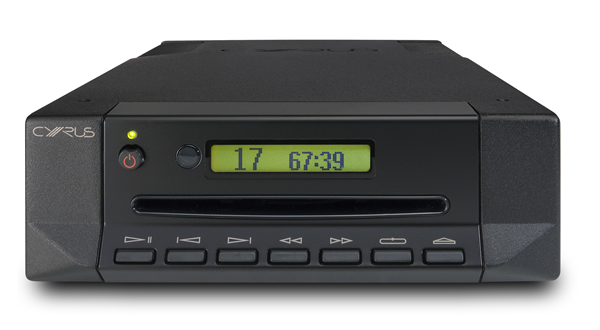 The CD i is an integrated CD player using our award winning Servo Evolution CD engine. It is our best sounding CD player ever. Everything from the power stage through to the analogue output of the machine has been designed with sound quality in mind, and the results will exceed all your expectations.
While the CD i is a high end CD player, it has been designed to introduce new people to the joys of hi-fi. Experience your music in the greatest detail, with easy set up and control.
The CD i uses many of the same components as the CD Xt Signature, including a latest generation LED disc loader. This use of top end components for lower specification models spreads throughout the Cyrus range, meaning that products like the CD i comfortably outperform their peers in the same price range.
A 32-bit DAC gives the CD i all of the capacity it needs to convert even the most complex loads into full analogue output. All of this means that it is the best sounding CD player we have ever made.
To further improve your sound, connect our PSX-R₂ external power supply to decrease the strain on the internal power supply of the unit. Connect the CD i to an amplifier like the8₂ DAC for a fantastic sound, and complete your system by connecting a Stream Xa to add streaming capabilities.
---
CD t CD Player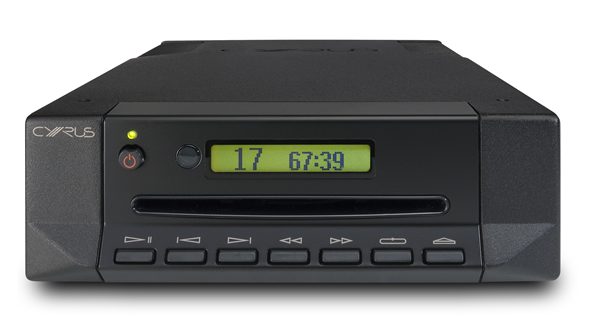 The CD t is an audiophile CD transport widely seen as the best CD transport in its class because it uses many of the top end components put into our flagship CD Xt Signature. As well as our uniqueServo Evolution disc reading engine, the CD t houses many advanced components which make the sound it produces really stunning and impressive.
A multi-regulated power supply allows the Servo Evolution software to work with miniscule precision, pulling huge amounts of data from your disc and transporting that to a separate DAC without adding or taking away anything from the music itself.
A complex re-clocking circuit with close tolerance crystal VCO is used, resulting in sound that is pure and full.
In tests it produces industry leading read error rates, which is why the CD t is often named the best CD transport in its price range.
Partner this fantastic CD transport with the 82 DAC integrated amplifier and digital-to-analogue converter or the Pre₂ DAC.
The CD t can also be upgraded to our CD Xt Signature for the ultimate CD player.
---
8₂ DAC Integrated Amplifier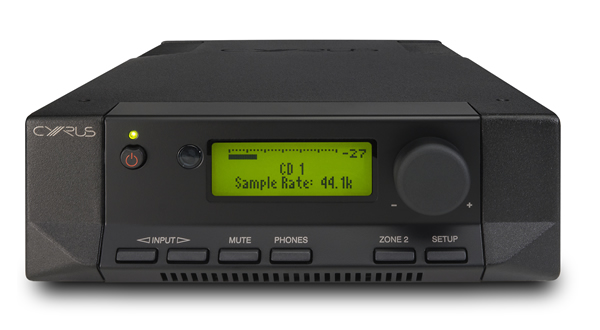 The 8₂ DAC is our most flexible integrated amplifier. A high quality and scalable design provides an impressive 88 Watts per channel, and includes six analogue inputs which you can individually name from a list of options in the set up wizard. Also included is a great headphone facility and twin speaker output for bi-wiring.
This amplifier can be upgraded to include a Qx module to add an upsampling 24/192 DAC. 8₂ DAC is the perfect partner for the CD i or CD t.
---
6 DAC Integrated Amplifier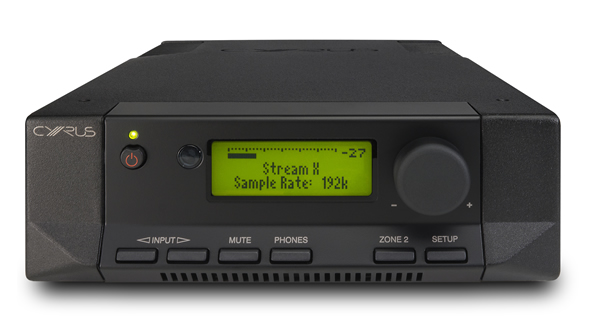 The 6 DAC is our award-winning high quality amplifier and digital to analogue converter offering 57 Watts per channel.
Its built-in digital to analogue converter reads the highest 24-bit files and transforms them into the music your speakers love in high definition. As well as including the 6 DAC in your hi-fi system, you can use it to play music directly from your computer or plug it into your TV or satellite box.
This amplifier even lets you play one source in one room and another in a second room. This high quality amplifier and DAC will put new life into your music or films with a touch of our trademark Cyrus tuning.
The CD t and Stream X Signature are perfect system partners to take advantage of the expert engineering of the 6 DAC.
---
DAC XP Signature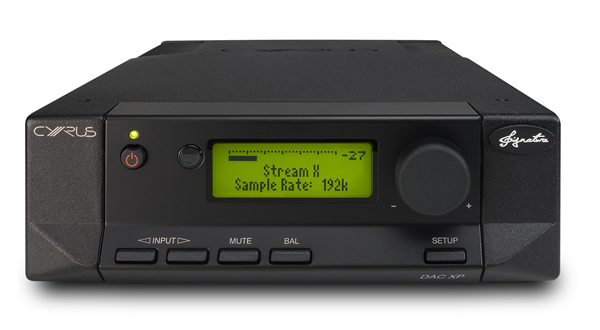 At the heart of the DAC XP Signature is an upsampling digital to analogue converter which transforms any music into the highest possible 32-bit resolution. The fullness, depth and quality of the sound this produces is really impressive. The amplification process of the DAC XP Signature has also been painstakingly tuned to produce the trademark Cyrus sound – quality and purity guaranteed.
Our engineers have created our most stable circuit yet, making sure that there's no jitter and your music is perfectly timed throughout. The built-in pre amp provides a full and clear sound output no matter what you're listening to – using our best pre amp technology.
The chassis of the DAC XP Signature is divided into two entirely separate sections – an audiophile DAC and a fully balanced analogue pre amplifier. Keeping these processes completely separate means each can be given all of the power it needs on a separate circuit, avoiding any distortion or noise interference.
Tuned to produce the purest Cyrus sound, the DAC XP Signature has our most sophisticated re-clocking circuit to ensure no jitter.
The DAC is able to measure the precision of incoming digital sources and treat them accordingly. This means that high accuracy sources like the CD Xt Signature are digitally re-clocked by a close tolerance circuit with triple quartz references. Meanwhile for low accuracy sources the high quality DAC relaxes its re-clocking precision to ensure reliable playback.
---
Pre₂ DAC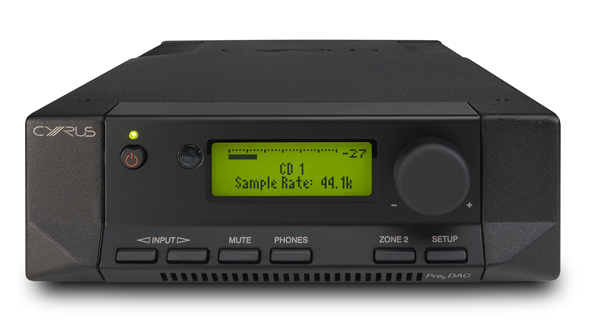 The Pre₂ DAC separates the pre amp into its own chassis and provides a dedicated power supply which means the pre amp can resolve more detail. Complete with a built-in DAC, the pre amp is compatible with a very wide range of sources such as CD players, streamers or your TV digital audio out.
The Pre2 DAC offers a sonic step up in performance from our integrated amplifiers. This is achieved because the pre amplifier circuitry has its own power supply. The internal power supply provides isolation from the demands of other system elements, making available an additional level of dynamics and resolution. The digital section also sounds better for the same reasons, especially when used with the optionalQx card, the audio quality rises further still.
If a PSX-R2 is connected, owners will hear a large jump in performance as the PSX-R2 feeds the pre amp with a highly regulated and super smooth DC feed. The sonic uplift from the PSX-R2 means the close tolerance components in the pre amp can be fully appreciated as they now benefit from the smoother supply.
The Pre2 DAC includes a carefully designed top quality digital section built into the pre amplifier with a Burr Brown 24-bit/192k DAC and a carefully designed power supply. With 5 digital inputs that enable the amplifier to connect and clearly improve the sound of connected digital sources including; your computer, DVD player, TV and many other digital sources. Our premium Qx DAC upgrade is available which takes performance to a higher level again.
The Pre₂ DAC is designed to be partnered with one of our matching power amplifiers such as the X Power, Stereo 200 or Mono X 300 Signature. Build your system with a CD i or CD t and a Stream X Signature or Stream Xa for an exceptional music experience. Add a dedicated power supply such as the PSX-R₂ to further enhance the pre amp's resolution.
---
Phono Signature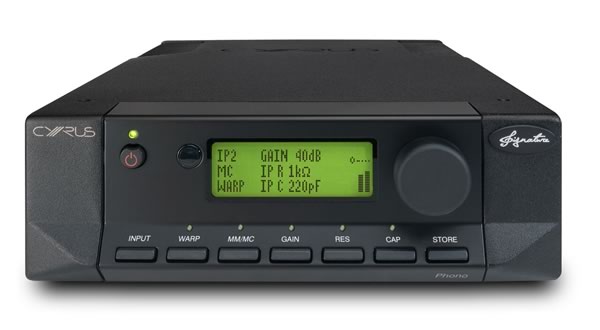 Phono Signature has been designed to allow up to four turntables to be permanently connected because many vinyl enthusiasts enjoy multiple turntables, arms or cartridges for different records.
Each of the four inputs can be accurately matched to the exact specification of the cartridge and the acoustic preference of the user. Adjustment is provided for MC cartridges in; gain, resistance and capacitance. In addition a switchable warp filter is provided to maximise amplifier performance.
---
Mono X 300 Signature Power Amplifier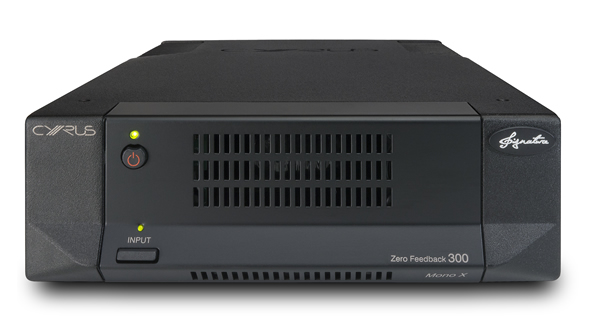 Our best power amplifier, the Mono X 300 Signature can provide an enormous 319 Watts of power to your speakers (through 6 Ohms). Our Zero Feedback technology means that the sound coming out of the amp is exactly the same as the one going in – just bigger. The amplification processes inside this handcrafted Cyrus chassis have been expertly engineered with complex circuitry making sure that the output is powerful and precise.
Mono X 300 Signature contains a 305VA ultra-low noise transformer and through our expertly engineered circuitry we ensure that nothing is added to the signal as it passes through the amplifier. As music volumes drop, it becomes increasingly important that the only sound being issued from a hi-fi system is the music itself. Our Zero Feedback technology means that in tests, our best power amplifier produces negligible distortion at low volume.
To maintain the precise sound quality Cyrus is known for, but ensure adequate ventilation of our power amps, we've developed a smart cooling system for the Mono X 300 Signature. This system only activates the fan when it's needed – when you're listening at high volumes. When the volume drops or silences are detected, the fan automatically switches off so there's never any unwanted background noise.
---
Stereo 200 Power Amplifier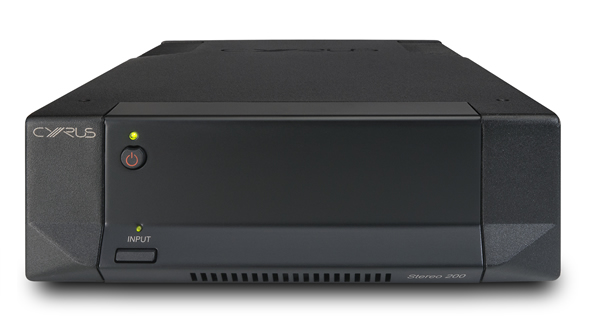 Delivering a herculean 2 x 203 Watts into 6 Ω from the half width Cyrus die-cast aluminium chassis this high quality power amp provides enormous continuous power and superb dynamics.
Cyrus' new Stereo 200 power amplifier is the first hybrid power amplifier to be launched from this new platform. By "hybrid" we mean it incorporates a traditional Cyrus power supply design with a low noise toroidal transformer, married with a new, high power, class D output device. This combination provides enormous continuous power and superb dynamics.
Partner with a Stream XP₂ to create one of the smallest yet most capable hi-fi systems available anywhere and at any price.
---
X Power Power Amplifier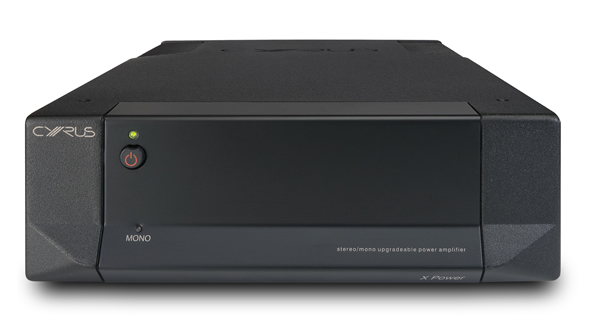 This high quality amplifier is a great example of our upgrade philosophy, providing you with excellent stereo amplification as well as the opportunity to improve the sound in the future by adding a second X Power.
The X Power uses an oversized power supply, which allows it to be incredibly dynamic and responsive to even the most challenging inputs. These huge power reserves will be channelled into your music whether being used in stereo or mono mode.
To make sure all of that power is put to good use, every single component – from the die cast Cyrus chassis down to each power filter, has been selected through a careful testing process to find the combination which provides our trademark sound quality.
The PSX-R₂ takes the X Power to another level of power amplification. By powering the audio output stages and separating control and audio signal power supplies the PSX-R₂ boosts the finesse of the X Power, translating into even smoother treble and mid-range performance and a faster weightier bass.
With a PSX-R₂, an X Power can provide up to 120 watts (stereo) or 240 watts (mono) per channel (into 4 Ohms).